TL;DR Chegg is our pick in this comparison. Read the article to find out why.
One of the biggest challenges of learning is that sometimes, we get stuck in concepts that are hard to understand.
Whether you're a college student or taking a difficult online course, you're going to have to dig deep at some point and tackle even the more demanding challenges.
Have you ever had that moment when you simply can't get to the bottom of a problem, and you just want to quit studying?
If you've ever felt like this when studying…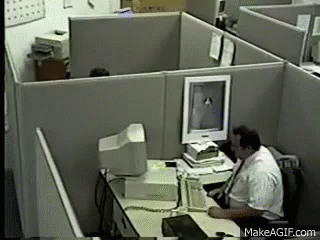 …then this article is for you :).
We're going to take a look at Chegg vs Course Hero, two of the biggest and best online learning platforms out there.
Which one's the better choice for you?
Can't Wait? Here's Our Favorite…
Both Course Hero and Chegg are great resources for students. But Chegg is a much more complete and comprehensive service as it offers more accurate answers, has more users, and it has a more detailed tutoring system. Even though it is slightly more expensive on the whole, it's worth paying for the subscription if you're seriously struggling with your studies.
Chegg Review
Let's start this comparison by taking a closer look at Chegg and see what it has to offer to entice students to learn with Chegg.
About Chegg
Chegg is an online learning platform providing solutions for students and learners.
It was founded in 2005 in Santa Clara, California.
It's a subscription-based service where students can get study materials online, rent or buy study books, get textbook solutions instantly, tutoring, and access millions of resources posted by other students and teachers on the platform.
Fun fact: There's a fascinating story behind Chegg's name, too.
Chegg's founders created the name by blending the words chicken and egg, referring to the eternal and unsolvable question of which one was first – the chicken or the egg?
It's a reference for students' inability to get a job without experience and the failure to get experience without a job.
Chegg was created to help students complement their studying efforts by providing them with study books, textbook solutions, tutoring, and other valuable resources to help them study better.
There are currently around 3 million subscribers on Chegg, making it one of the world's largest online learning platforms.
What does it have to offer to students?
Rent/Buy and Sell Textbooks with Chegg
One of the more notable services Chegg has to offer is Chegg Books. With this service, you can rent, and buy books or textbooks for any subject you're studying.
The good thing about this service is you can rent a book of your choice, have it for as long as you need it, and then simply return it when you're done studying.
This is perfect for students looking to save money on books but still, get the learning materials they need.
You can search a book through the search engine, where you can simply enter the book's title, the name of the author, or the book's ISBN.
You get access to most books used by numerous colleges across the US, as well as access to some extra free stuff along the way.
Get Textbook Solutions with Chegg Study
Now, Chegg Study is where it's at when it comes to Chegg.
First, we have to mention that you'll need to pay to get access to Chegg Study.
You have two options for this:
Chegg Study – $14.95 per month. You get textbook solutions, expert Q&A, and the ability to ask new questions on the forum.
Chegg Study Pack – $19.95 per month.
This is a more comprehensive solution with all of the features of Chegg Study, with the inclusion of premium flashcards, practice quizzes, guided videos, math solver, and writing tools.
This one presents the better value of the two, we believe.
What do you get with Chegg Study?
No matter which plans you pick, you get accurate textbook solutions from millions of other students and teachers using the tool.
Since many colleges use the same books, these textbook solutions will be correct, and there will be solutions for thousands of textbooks in almost any field imaginable.
Another even more popular of Chegg Study is asking questions and getting answers from teachers and experts on the subject almost instantly.
So when you feel stuck in your studies, you can simply post a question in Chegg Study and wait for someone to answer it.
Students and teachers will answer the question, and there is also an upvote/downvote system for answers, so you can see which answer is the best.
If you choose the Chegg Study Pack subscription, you'll get additional features with it. One of the more notable ones is the Math Solver, which solves tough mathematical equations. There's also an app that allows you to use the tool, no matter which subscription you choose.
Ultimately, there's a lot to love about Chegg Study.
The answers are a bit more comprehensive than on Course Hero, and there are also more answers here.
Although, when it comes to advanced level, it sometimes feel there's a lack of answers, even on Chegg.
Get 24/7 Tutoring with Chegg
If you really struggle with a concept at hand and if you need additional help, then textbook solutions and books might not cut it.
That's when you need someone to explain the concept to you.
With Chegg, you can get a tutor immediately and at any time of day (available 24/7).
You can simply type in the subject you're struggling with, post your question to the tutor, and upload any files that might help the tutor answer your question and help you out.
Let's say you're struggling with algebra… In this case, you only have to type in "algebra" into the search engine.
Then, a window will pop up, asking you to tell your name, enter the details about the question, and upload files that might be helpful.
And in less than 30 minutes, you'll get a tutor to help you out.
Nice, isn't it?
We feel like this is an area where Chegg beats Course Hero comprehensively.
The system for tutoring with Chegg is far more detailed and comprehensive.
You can select the topic you need help with, and get a tutor immediately.
With Course Hero, there's also 24/7 tutoring, but it's much more vague.
You can only submit a question and wait for someone to help you.
Chegg's tutoring service comes at a cost, though.
You can pay $10.95 per lesson, or you can select the monthly plan for $19.95 – these two only offer chat tutoring.
If you're after video tutoring, you'll have to pay $30 per month – which is a good value, since you can have 60 minutes a month of tutoring on any subject.
Chegg Pricing
We've already reviewed some of the prices with Chegg.
As you may have noticed, you will have to pay for each service individually, so monthly fees can jump up fast.
Additionally, you can expect to pay for books and rentals, which can further your costs.
For example, if you select the Chegg Study Pack, you'll pay $19.95 per month.
And if you want tutoring (chat only), then you can add $19.95 per month.
That's already $39.9 per month, and if you're looking to buy or rent a textbook or two, then the costs will add up even more.
But we believe that the Chegg Study Pack is the best subscription for almost any student – no matter the subject you're studying.
So the complete service can be quite costly, but considering the value you're potentially getting for a little under $40, we believe it's absolutely worth it – if you intend to use the tool a lot, of course.
Chegg Pros and Cons
After using the tool for a while, this is how we would summarize Chegg:
Pros:
You'll get unprecedented access to textbook solutions for almost any subject. Because many colleges use the same books, there will be solutions for almost every textbook out there.
You can ask questions and get quick answers for your queries. An expert will review your question and answer it in the forum, which is, of course, public.
24/7 tutoring is comprehensive and detailed. You can simply select the subject you're studying, and get a tutor almost immediately.
Rent or buy books at a lower cost and sell them. With Chegg, you can save a lot of money by simply renting books instead of buying them, although you can also buy or sell them, too.
The Math solver helps you solve problematic mathematical equations you're struggling with – quickly and painlessly.
There's also an app you can easily use on any device.
Cons
Can be quite expensive if you select all of the services Chegg has to offer. This is, if you buy books through Chegg and select the other two subscriptions.
There might not be many answers for the more advanced questions you're looking for.
Course Hero Review
How does Chegg stack up to Course Hero?
About Course Hero
Course Hero is an online education service based in Redwood City, California. It was established in 2006, so just a year after Chegg.
Initially, it was designed to help students share class notes and lectures, although it launched its website only in 2008.
The biggest feature of Course Hero is its collection of documents – it has more than 20 million different documents – from study materials, assignments, additional, resources, books, textbooks, and other documents.
The great thing about Course Hero is that anyone can upload documents so that all other members can download.
There are also answers within those documents, as well as textbook solutions. Course Hero also offers 24/7 homework help and tutoring.
Course Hero's Study Resources
The biggest selling point of Course Hero is the vast amount of resources you can download to your computer, and get help with your studies.
You can even sign up for free and get these resources immediately.
Although there's a monthly subscription ($9.95 per month) which gives you access to all of the documents that are not available with the free service.
As of right now, there are more than 20 million different resources – either uploaded by students, or uploaded by tutors and teachers.
You can search the resources by selecting your school, or by simply typing in the name of your textbook:
Within these documents, you'll also find answers to questions and textbook answers.
With the free service, this is somewhat limited, although you do get access to all of them with the subscription.
We must mention that even though there are some nice answers, there are much less of them than on Chegg, and they are also less comprehensive.
Tutor and Get Tutoring with Course Hero
Another feature Course Hero has to offer is its tutoring system.
Yes, it is slightly different from Chegg's tutoring system, although it is also available 24/7.
The key difference here is that it's less focused and less detailed, but still quite effective.
That's mainly because there are thousands of tutors readily available to answer questions.
You can enter any subject of your choice, type in your question, and upload files if needed.
You can expect to get a quick answer – anywhere from 15-30 minutes seems like an average estimation of how fast you can get tutoring.
Anyone can become a tutor with Course Hero, too, as long as you have the appropriate knowledge about the subject in question, that is.
You'll have to apply to become a tutor, although you'll also get paid for becoming a tutor, which can bring you a nice, steady income on the side. 🙂
Overall, there seems to be a slightly stronger sense of community with Course Hero.
While there are arguably more users of Chegg, Course Hero is free so participants are always encouraged to provide some input.
That's why there are so many documents on Course Hero, because people upload them onto the platform to help other students out.
Course Hero Pricing
Course Hero is mostly free, although you won't have access to all of the materials if you have a free account.
With the monthly subscription ($9.95 per month), you'll have access to all of the materials on the platform.
It just feels like the platform is made in such a way that sooner rather than later, you'll simply have to get the subscription, or else you won't be able to access the documents and the answers on the site.
You will pay for tutors separately, though.
Even if you have the free membership, you can access tutors at a-la-carte prices.
If you want expert tutors, these might cost quite a lot per hour, although they are also quite effective.
Overall, Course Hero seems to be slightly less expensive than Chegg overall, but it's also not as deep and complete.
For the monthly fee of $9.95, you will get access to all of the documents, although the tutoring is paid for separately.
Course Hero Pros and Cons
Pros:
More than 20 million documents available to members to use and download straight away
You can earn money by becoming a tutor on Course Hero (although only selected members will be able to become tutors
There are answers on Course Hero for questions
You can get access to tutors at a-la-carte prices
Anyone can upload documents, which creates a strong sense of community
A relatively cheap subscription system
Cons:
The tutoring system is not as complete and detailed as it is on Chegg
Even though there are answers for questions, these don't seem to be as detailed and comprehensive as on Chegg
The website can be somewhat confusing at first
No access to answers or only partial access if you don't get the subscription – creating the feeling of being "forced" into the paid monthly subscription
May be incorrect answers because almost anyone can answer questions, and the answers are not vetted because there are no upvotes or downvotes for answers
Our Verdict
To conclude, both platforms offer decent studying materials and tutoring for students looking to enhance their studying efforts.
But if we compare the two tools with each other, we simply can't ignore that Chegg feels far more complete and comprehensive compared to Course Hero.
Even if it comes at a higher price, you'll get more for your money as you'll get more complete answers, and much more textbook answers than you would get on Course Hero.
Another aspect where Chegg beats Course Hero is the tutoring system.
It feels more detailed, because you can pick your subject and even get livecam tutoring.
Even though Course Hero is more affordable, we belive that Chegg has more to offer when it comes to providing answers and tutoring than Course Hero.