When shooting interviews, you can't afford to miss a moment or even to distract the interviewee by having to fiddle too much with the camera.
What you're looking for is an eminently reliable interview camera, one that you can trust completely.
Unfortunately, there are a lot of complications when it comes to buying an interview camera setup.
Can you manage with a 30 min record limit, or do you need an external recorder?
What color-depth do you use?
How important are AF performance and battery life?
These are questions that are trickier to answer than you'd realize.
I've spent years shooting interviews and have had hands-on time with some of the most popular camera systems out there.
I've also spoken to other documentary filmmakers, and hopefully, my experience and that of others should help you make an easy decision.
The Best Cameras for Interviews (Overview)
---
Full List of Cameras for Interviews
We've included an overview of our top picks above. For a full list and detailed information on each pick, scroll down.
7 Best Cameras for Interviews in 2023
The list here includes various camera equipment for interviews that specialize in certain roles.
In doing that, I've also attempted to explain why that camera works in that role, which should help you not just to choose but also to understand what to expect from your equipment.
1. Best Video Camera for Interviews: Canon EOS R6
The R6 is Canon's cheapest full-frame video camera that uses RF lenses.
The Canon EOS R6 is a fast, modern system with impeccable AF and the best color science you can get, which makes it a perfect camera for interviews.
It does have issues with overheating, but there are workarounds.
Why is it suitable for shooting interviews?
Video Recording: Few cameras are as capable as the R6 when it comes to video.
This camera records 4K 10-bit 4:2:2 video internally at up to 60 FPS with, at most, a 1.05x crop.
Most full-frame cameras crop down significantly in this mode.
While the image quality is exceptional, the camera overheats within 40 minutes, which can be a problem when shooting long interview sessions.
However, this can be mitigated by investing in an external recorder like the Atomos Ninja V.
Connectivity: Connectivity is simply not a concern on the R6.
You get a super speed 10Gbps USB-C port, micro HDMI that can output 10-bit RAW, dual UHS-II class SD cards, and fast Wi-Fi and Bluetooth for seamless pairing with a smartphone.
If necessary, you can use the USB-C port to connect the camera to a PC as a webcam for live streaming.
Sample Shots
Design & Build
The R6 is a professional camera and is thus weather-sealed and built like a tank.
The body is large and comfortable to hold, with the buttons being ergonomically placed for ease of use during shoots.
Battery Life & Charging
The LP-E6NH batteries are quite capable of powering this camera for nearly 90 minutes, and perhaps more under the right circumstances.
However, the issue here is overheating and not battery life.
You'll want to use an external recorder and dummy batteries during interviews, and though USB-C charging is an option, it might contribute to the overheating problem.
Should you buy it?
I'd avoid the Canon R6 if I was looking to shoot long-form content in the field.
However, for interviews, especially in a studio setup, I don't think you'll find a more capable interview camera system out there.
You will need to invest heavily in external recorders, however.
Pros
Canon color science
Exceptional AF performance
Full-frame 4K 60 mode
Excellent lens selection
A professional tool
Cons
Overheats easily
Footage can be difficult to edit
2. Best Camera for Zoom Interviews: Sony A7 III
Sony's A7 III might be long in the tooth, but despite its age, it remains one of the most capable interview cameras still available.
With an excellent AF system, a downsampled 4K mode, and incredible battery life, Sony A7 III is still the camera to beat at its price point.
Why is it suitable for shooting interviews?
Video Recording: The camera uses the full width of its 24MP sensor to capture video before downsampling it to 4K when recording at 24 FPS.
At 30 FPS, you get a slightly smaller image before downsampling, but the quality is still excellent.
FHD quality, though, isn't very good, so I'd recommend sticking with 4K for your shoots.
The A7 III's primary drawback is its older AF tracking system (compared to modern Sony cameras).
This can be a problem when shooting moving subjects, but for interviews, where you only need face and eye AF, the A7 III is more than enough.
Connectivity: You get a 5Gbps USB-C port, micro HDMI with an 8-bit output, and dual 3.5mm audio jacks.
A fast Wi-Fi connection with NFC pairing with Android phones ensures a quick and easy wireless setup process.
Sample Shots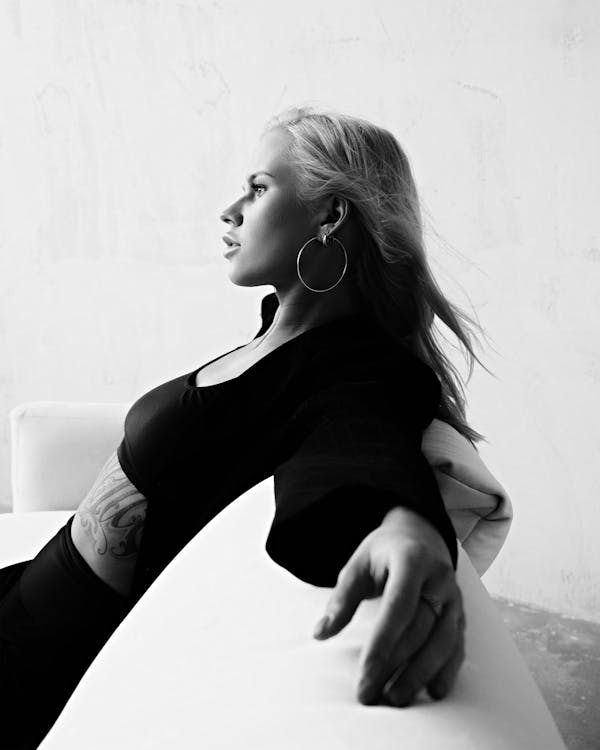 Design & Build
Its body is a bit large compared to that of other Sony bodies, but that also means it's comfortable to hold.
The extra heft will also make handheld footage more stable.
Weather sealing falls a bit short compared to pro cameras, but I doubt you'll be shooting interviews in rainy or snowy weather, to begin with.
Battery Life & Charging
Battery life is truly spectacular, and I wish other cameras were as impressive in this department.
A single charge can easily get you through 3-3.5 hrs of shooting, and it charges via USB-C.
Plus, Sony batteries are quite cheap and plentiful so that that spares won't cost a bomb.
Should you buy it?
Overall, A7 III is a great camera for recording interviews, but it is an older one that can only output 8-bit video.
This is great for average YouTuber and semi-professional work, but you will need a more expensive 10-bit camera for professional or broadcast work.
If you're not a pro, the A7 III will save you a ton of cash, which can be better spent on lenses and gear.
Fun Fact: The Sony A7III is also featured in my list of recommended cameras for live streaming.
Pros
Large and comfortable body
Superb battery life
Excellent face and eye AF
4K video quality
Cons
30-min record limit
8-bit output
3. Best Face & Eye Tracking: Nikon Z6
From Nikon's camp, we have the Nikon Z6.
Yes, there is a Z6 II out as well, but we're talking about good cameras for interviews here, and the Z6 II is simply more expensive while adding no features that are significantly useful for interviews.
Save some cash and buy the Z6.
Why is it suitable for shooting interviews?
Video Recording: Video is captured using the full-width of the 24MP sensor and then downsampled, resulting in sharp, clear video with excellent noise control.
The camera only captures 8-bit footage internally, so you'll need an external recorder for more professional 10-bit recordings.
The AF system falls short of the one's Canon and Sony use, but the Z6 does have an excellent face and eye tracking, even if you're wearing glasses.
For interviews, you're not going to be tracking moving subjects, and this AF system is fast enough.
Connectivity: Given the built-in 802.11ac Wi-Fi, speed is not something you'll be left wanting.
Ports include a 5Gbps USB-C port, dual 3.5mm audio jacks for recording and monitoring, an HDMI output, and an MC-DC2 remote input.
Sample Shots
Design & Build
Being Nikon's first full-frame mirrorless camera, the Z6 bases its design on Nikon's flagship DSLRs like the D850.
As a result, the camera is easily among the most ergonomic ones around, and whether mounted on a tripod or used handheld, you're going to find it comfortable to shoot with.
Battery Life & Charging
The camera can record continuously for about 2 hours at 4K but be warned that there is a 30-min recording limit.
To overcome that, you'll need to use an external recorder.
The batteries themselves can be charged via USB-C if necessary.
Should you buy it?
At a price it's selling at, the Z6 is a steal and worth investing in.
Its tracking AF system isn't as robust as competing systems, so use is limited to interviews or manual focus applications, but if that's your jam, the Z6 will not hold you back.
Pros
10-bit N-log output over HDMI
Excellent face tracking AF
Good dynamic range
Excellent battery life for video
Distinct photo and video settings
Cons
8-bit capture internally
Mic pre-amp is hissy
4. Best with In-Body Image Stabilization: Fujifilm X-S10
Fuji's cheapest video-focused mirrorless camera is a brilliant little beast when it comes to ergonomics and image quality.
What it lacks in flagship features, it makes up for in quality and ergonomics. It's still a good video camera for interviews, and that's the reason Fujifilm X-S10 is featured here.
Why is it suitable for shooting interviews?
Video Recording: This camera shoots 4K 30 FPS video at 10-bit 4:2:0 internally and can output 10-bit 4:2:2 video over HDMI.
This is much higher quality than what you'll get from many full-frame mirrorless cameras. It also supports DCI and UHD framing. Oh, and it has IBIS.
The one niggle here is AF performance.
It's great for stills and for tracking faces in the video, but the camera does struggle when someone is wearing glasses.
The lenses are also better designed for stills than video, so some care is required to get smooth focus pulls.
Connectivity: This is a small body, so connectivity is a little limited.
You get Wi-Fi 802.11n and Bluetooth, and also 5Gbps USB-C and micro HDMI out.
There is a 3.5mm mic input for audio, but you'll need a USB-C to 3.5mm adapter to monitor audio.
Data is stored on a single UHS-I-rated SD card.
Sample Shots
Design & Build
The X-S10 is very well built for a compact mirrorless camera and features Fuji's signature ergonomics that don't require much fiddling in menus.
The camera also, surprisingly, comes with a deep grip that helps with handheld shots.
Battery Life & Charging
It's a small camera, and the battery is correspondingly small.
You only get 40 minutes of video per charge, but given the 30-minute record limit, this isn't so much of a problem.
Plus, the camera supports charging via USB PD, which you can use while the camera is shooting.
Should you buy it?
The X-S10 is a niche camera. It can output brilliantly sharp video and takes a bit of fiddling to get right.
For those willing to do that fiddling, the camera can be very rewarding.
Buy this reasonably priced setup if you need a hybrid still and video camera to shoot interviews.
Pros
IBIS is effective for video
Good ergonomics for such a small camera
Impeccable build quality
Lens optics are superb
X-Trans sensor is among the best
Cons
Poor battery life
AF reliability
Sony's A6400 is 3 years old, but the reason it's stuck around for so long, and will probably continue to sell for a few more years, is because it's a proven workhorse with wicked fast AF.
The Sony A6400 is also compatible with Sony's vast collection of E mount lenses, making it an excellent camera choice for interviews.
Why is it suitable for shooting interviews?
Video Recording: The A6400 records 8-bit 4K 30 FPS video internally and at a maximum of 100 Mbps at that.
This is still great for most online work but can hold you back when shooting professionally.
AF performance is superb, however, and color quality from the 8-bit MP4's is excellent.
Connectivity: Connectivity options aren't cutting edge, but they cover the basics.
USB speed is limited to USB 2.0 speeds, and you get a single UHS-I class SDXC/Memory Stick DUO slot.
Wireless options include 802.11n Wi-Fi, Bluetooth, and NFC.
Sample Shots
Design & Build
The camera is small and compact, but it has a nice grip.
At 0.89 lb, it's also very light and easy to mount on cheaper gimbals.
Still, I wouldn't recommend handholding this camera for long shoots as the body is just a tad too small to maintain a stable grip.
Battery Life & Charging
As with other Sony cameras, battery life for video stands at an impressive 125 minutes.
Since there's no record limit, you could simply record till the battery runs out of charge.
Charging over USB-C is supported.
Should you buy it?
This is an old camera and not suited for professional use in 2023; however, for skilled amateurs and content creators looking to use it for interviews, A6400 is a very good value.
Sony's E-mount also helps as you can carry your lenses forward to a full-frame system whenever you upgrade.
I've even recommended it as one of the best budget filmmaking cameras.
Pros
Excellent AF system
Good quality 4K video
Good battery life
Lightweight body
Cons
Rolling shutter can be excessive
No 10-bit output
6. Best with Dual Pixel AF System: Canon EOS M6 II
You can think of the Canon EOS M6 II as Canon's iconic D90 in mirrorless form.
It's just as capable, features the same Dual Pixel AF system, and all this in a more compact body.
The only thing you lose out on is support for EF lenses.
Why is it suitable for shooting interviews?
Video Recording: This 33MP sensor captures incredibly sharp stills, and since the 4K video modes use the full width of the sensor, video is just as sharp.
Canon's Dual Pixel AF system also means that every pixel is a PDAF point, getting you over 5,400 points to choose from.
Video is recorded at 4K 25 or 30 internally at 8-bit, but it can output 10-bit 4:2:2 video to an external recorder.
Do note that there's a 30-minute record limit when recording internally.
Connectivity: This is a camera from 2019, so connectivity isn't that great by modern standards.
The USB-C port is limited to USB 2.0 speeds, you get a mic jack (but no headphone out), micro HDMI, and 802.11n Wi-Fi + Bluetooth.
Data can be recorded to a single UHS-II class SD card.
Sample Shots
Design & Build
The camera is a little more compact than I'd like, which can be a problem when shooting interviews handheld.
However, it is a very light camera, so it can easily be mounted to a gimbal or tripod and used as such.
Buttons are plentiful and well laid out, and Canon gives you the option to program separate video and stills functions to these buttons.
Battery Life & Charging
As with other cameras in this category, the LP-E17 battery is quite small and will only last about 40 minutes per charge.
There is USB-PD support over USB-C, however, and a power bank will do just fine in lieu of a larger battery.
Should you buy it?
The M6 Mark II is a good, compact interview camera.
It's great for use on gimbals, and with an external recorder, it can be used professionally as well, especially with Canon's Dual Pixel AF system.
If you're looking to save a buck but not compromise on quality, this is what I'd get.
Pros
Dual Pixel AF system
10-bit 4:2:2 video output
USB-PD support
Lightweight body
Signature Panasonic colors in a compact body?
A great EVF, 5-axis IBIS, and a fast sensor, what's not to like. For a traveling interviewer, I'm hard-pressed to think of a more suitable camera than the LUMIX GX9.
Why is it suitable for shooting interviews?
Video Recording: The camera can shoot 4K 30p video, but at a significant crop, which can be an issue with this already tiny micro four-thirds sensor.
This is, however, an excellent 1080p video camera that outperforms other 1080p cameras out there.
Panasonic's contrast-based DFD AF system is present here, and while it isn't as fast as a PDAF system, it's fast and accurate enough for tracking faces and shooting interviews.
Paired with that excellent IBIS system, you'll be able to travel light and not require too much gear.
Connectivity: Data is recorded to a single UHS-I class SD card, and I'd recommend getting a fast card reader since the camera is limited to USB 2.0 data transfer speeds.
Wi-Fi is quite decent as it supports 802.11n, but is not ideal for transferring large movie files.
The only other port you get is the micro HDMI output. There are no audio jacks.
Sample Shots
Design & Build
This is a compact but very robust camera that's more pocketable than professional.
This makes it great for interviewers who prefer a more run-n-gun approach to shooting and don't work from a studio.
Interestingly, the camera comes with a tilting EVF system, which, while small, can be especially useful when shooting interviews on tripods and the like.
You can more easily frame your shot without accidentally messing up the frame.
Battery Life & Charging
This camera is tinier than most and battery life correspondingly suffers.
Thanks to that small sensor, however, you should be able to manage 30-40 minutes of recording per charge.
Be sure to carry a power bank and spare batteries on longer trips.
Should you buy it?
The Panasonic GX9 isn't your traditional interview camera in that it uses a tiny image sensor and doesn't support a lot of accessories.
However, it is a pocketable camera with excellent image quality and IBIS, making it suitable for traveling interviewers or people involved in documentary work.
It's also less intimidating to others than a full-blown video camera.
Pros
IBIS
Tilting EVF is cool
Small and fast sensor
Compact body
1080p image quality
Cons
CDAF system is slow
Limited port selection
Frequently Asked Questions
What type of cameras is good for interviews?
A mirrorless camera is great for interviews because it usually has a better video AF system than DSLRs and can capture very high-quality video.
What features must I look for in a camera for interviews?
For interviews, you should be looking for great eye AF performance, battery life, and no record limits.
The 10-bit output will be useful if you're looking to shoot professionally.
What is the best camera for video interviews?
If budget is not an issue, I'd recommend the Sony A7 IV, or something more serious, like the Canon C70.
These cameras are very expensive, of course.
Are GoPros any good for interviews?
GoPros are fine, but these are wide-angle action cameras and tend to distort faces.
I wouldn't use them for interviews unless you're going for a particular look for your video.
Verdict
In this budget, the best camera for interviews is the Canon EOS R6.
It has overheating issues, and you'll need an external recorder, but if you're okay with that investment, you couldn't ask for a more professional kit.
Here are my summarised camera recommendations for interviews:
On a tighter budget, I'd recommend the Sony A6400.
It doesn't have the same image quality as the Canon EOS M6 II, but the M6's lens mount doesn't leave much room for future-proofing.
A more premium compact interview camera would be the Fuji X-S10.
It outputs very high-quality footage, and if you have the patience to tweak the AF system, it can be a rewarding tool.
I hope this list, and the information I've provided, help you make a quick and informed decision regarding your next interview camera.