If you're looking to monetize your website with online courses and membership sites, there's a lot of different options to choose from. You can either roll with self-hosted systems or something that connects straight to your pre-existing website.
AccessAlly is a popular plugin that can turn your WordPress site into an online course platform or membership site.
In this article, we'll give a full AccessAlly review and see if it's worth your time.
Don't Want to Read The Whole Thing? Here's Our AccessAlly Review Summary
[wp-review id="2850″]
AccessAlly Definition: What is AccessAlly?
AccessAlly solves the age-old problem of finding a way to turn your WordPress site into a membership or a course. Sure, there's plenty of other plugins out there… but have you tried them before?
AccessAlly's sales pitch is that it gives website owners complete autonomy in creating the perfect membership or course platform for their needs. But we'll see about that here.
AccessAlly Courses Creation Process
The course/membership creation process is pretty straightforward when you consider all the options you have.
There's this great thing called a Course Creation Wizard. That, despite its name, isn't only limited to online course formats.
The creation Wizard takes care of the entire process like creating pages, adding permission tags, adding products, and everything else nineteen. That means it's great for:
Online Courses
Affiliate systems
Membership groups
Please know ahead of time what you wish to include in the following areas:
Type of Course: Standalone vs "Stage" Release, which is basically a drip-release
Title of your course
The sales page you'll use for your course (if any)
How many course pages you'll need
Permission & Revoke Tags for your CRM (these will be created by the Course Creation Wizard)
Once you know all of that, the course wizard will take you through all of the steps. There's a bunch of resources on the site that you can use when creating your courses if you get stuck.
AccessAlly Ease of Use
One thing that you'll find with AccessAlly is that they give you total control over your courses or membership platforms.
Which sounds great in theory, but have you ever been to a restaurant with a massive menu?
Overwhelming…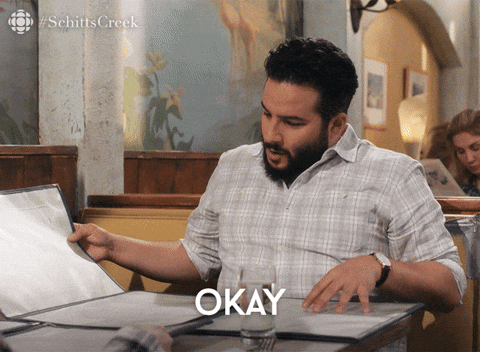 In a way, AccessAlly can be like that. There's a lot of decisions you'll need to make. So, in that regard, there's a bit of a learning curve on your first time.
However, there's the setup wizard that we spoke about earlier which will make everything easier for you. You do need to make sure that you get over that initial overwhelm though.
As long as you know what the course or membership site will look like (either in your head or on paper), then you should be fine. On the other hand, if you're just expecting to wing it, then you might struggle a little.
All in all, there are easier platforms to use, but AccessAlly isn't incredibly difficult either.
AccessAlly Integrations and Features
Now, we're going to look at some of the great features and integration that AccessAlly has.
The first thing you need to make sure you've got on point with your CRM or email platform. Having a great way to communicate with your students is key.
AccessAlly integrated with a bunch of different CRM platforms like:
Infusionsoft
ActiveCampaign
ConvertKit
Keap
Drip
Ontraport
You'll need one of these email platforms to use AccessAlly, so make sure you choose the best platform for you.
When you have your CRM hooked in with AccessAlly, there's a bunch of handy things you can do like create order forms and rag users – which is a massive win.
Along with your email integration, you'll also need to make sure you're connected with the best e-commerce payment gateways.
Most importantly, you can use Stripe and PayPal, which are the two biggest players in the game.
One other integration that I absolutely love is the use of page builders. They seem to like Beaver Builder most with AccessAlly. However, you can use Gutenburg, your WordPress Classic, and Elementor – which is one of the best page builders out there.
Besides all of the integration above, there are also some great features that AccessAlly has that'll make your life a little easier – note, the marketing, and educational features will be listed in the specific categories below.
Rolling membership and subscriptions, so you won't have to chase up renewals.
A drag and drop course builder
Easy member management
Paid tiers of memberships. So you can have the same customer on multiple courses or memberships at the same time.
So, all in all, AccessAlly has some great integration and features that you can use to make your course as great as possible.
In fact, some of AccessAlly's best integration and features are going to be mentioned in the next few categories.
Educational Benefits
Most of AccessAlly's best features involve making the educational experience as easy and engaging as possible. Here, we'll discuss some of the best ones.
Easily, my favorite feature that AccessAlly has is the gamification you can add to your courses and memberships.
Basically, gamification is a set of strategies that take parts of playing online games to make learning more fun and engaging.
Popular ways of using gamification include:
Point scoring
Storytelling
Social motivations
Gamification is incredibly useful for online learning. Think about it this way, attention is one of the most valuable things on the planet – that's why a company like Facebook can be worth more than an oil company that literally drills resources from the planet!
Anyway, these days, there are a million things fighting for your attention. You need to do more than throw a video up on your course and expect that to do the trick. That's where gamification comes in.
Along with the great gamification, there's a bunch of other educational benefits:
Progress tracking
Video and audio bookmarks, so your students keep their progress
Homework submission, so you can set homework for your students
Private notes, so your students can keep notes and come back to them later
Three different types of quizzes for your students
Honestly, as an educator, I absolutely love the educational benefits of AccessAlly. There really isn't too much more that I'd ask for.
AccessAlly Marketing Tools
AccessAlly has a bunch of great marketing features that you can use. However, the best feature is the affiliate marketing accessibility.
So, you can work with marketers and bloggers in your field and have them sell your products for you! You only pay your affiliates a commission on the sales they make – sounds pretty good, hey!
AccessAlly's affiliate plugin does all the tracking and upkeep for your affiliates for you, so you can run a smooth operation.
Here's a great video on the AccessAlly affiliate program:
Tools like the AccessAlly affiliate plugin can be quite expensive if you bought them as an extra, so to get it for free is brilliant.
AccessAlly Support
Like I said before, AccessAlly can have a bit of a learning curve when you're first starting out. If you're brand new to WordPress you may struggle. For this, support on offer is vital.
When I look at the support offered by tools, there's a few things I look for in particular.
A good knowledge base (or user guides)
Instant chat
Email support
While AccessAlly doesn't have an instant chat, they excel in the other two points.
The Knowledge Base area of the AccessAlly website has detailed walkthroughs for almost every task you'll need to complete. Then, if you still can't find the answer, their email support is top quality too. If you email during business hours, you'll get a super-fast reply.
Sure, a 24-hour chat would be great, but that isn't completely necessary with the awesome help guides.
AccessAlly Pricing: What Does AccessAlly Cost?
In regards to pricing, AccessAlly has a few options.
The $82 and $108 a month are the prices if you pay by the year. It gets a little more pricey if you only pay a monthly fee.
However, with the nature of membership sites and online courses, I can't really see any reason that you'd want to go on a monthly basis anyway.
With the prices listed, the Pro plan is the much better deal. The $82 essentials is fine – but a little on the expensive side compared to other options. However, the Pro plan is, in my view, priced very well for what you get.
You can also pay extra for the full experience. With the In-House training option, you get some on-the-job training on how to get the most out of your AccessAlly subscription, and also get an additional In-House AccessAlly Pro Training License for instructional purposes.
Final Verdict
AccessAlly is a great tool for turning your WordPress site into an online membership platform or online course.
Seriously, there's a lot of good stuff here and I was incredibly surprised at all the added features that come with the tool.
There's also a 30-day money-back guarantee, so if you're not convinced in the first month, you can get a full refund.
Related Article
If you want to host a membership site on your own site but don't have WordPress, you can try our MemberSpace review. MemberSpace is great for site builders like Squarespace and Wix.